OPEN AUDITIONS Saturday, October 18, 2-4 pm, east room of
Charlie's Spic & Span cafe, 715 Douglas Ave., Las Vegas, NM
PARTS and descriptions (non-binding)**


Marah: Student, female, approx. age 20-25

Bruce: Professor, approx. age 30-40

Serge: Student, male, 20-25, Haitian

Mark: Obnoxious student, 20-25?




Interview on KFUN October 17 re show and auditions

Script will be provided; no memorization required for audition or performance,
but there will be at least one rehearsal prior to performance Mon., Oct. 27.
- Please bring a headshot and resume or at least a photo you can spare

**PLEASE do not be overly concerned if you think you do not
fit the description. I need to see actors (and non-actors) to
know who is out there, for this and other productions.
If you are absolutely unable to make this audition, please
email me to make other arrangements.

-Jim Terr / www.JimTerr.com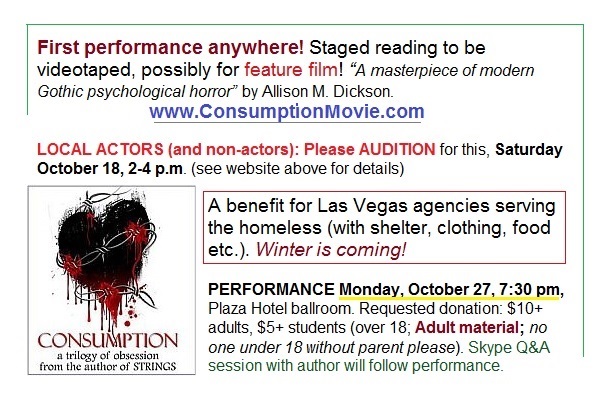 AUDIENCE CONSENTS TO BEING VIDEOTAPED FOR POSSIBLE BRIEF USE IN RESULTING VIDEO.
If you do not, please sit in side section(s)

Thanks to Chief Montano for help in researching homeless assistance agencies.
Thanks to Plaza Hotel for generous use of their facility.