Information on "...
Stupid
..." book and CD / Jim Terr bio, connections and credits
1 of 2. Regarding the BOOK (1988 original edition)
You Got to be Stupid to Sing Country Music
88 pages
(1988). An affectionate look at country music.
Unusual song lyrics by Jim Terr, great illustrations by Jay Lynch. $9.95.

"This is the best book I've ever read in my life."
-Father Guido Sarducci, SJ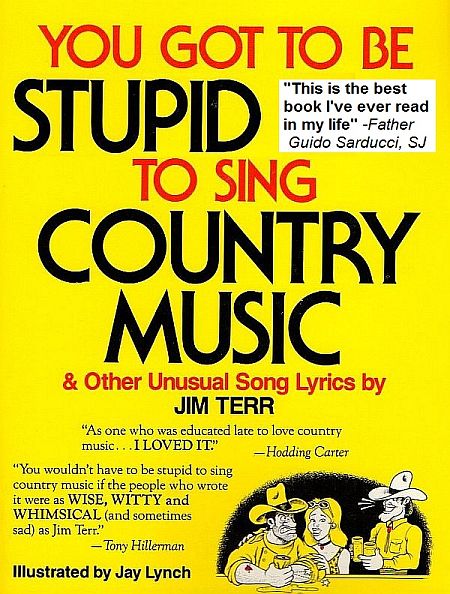 "Wise, witty and whimsical (and sometimes sad)" -Tony Hillerman

"Jim Terr is a modern-day Mark Twain, Will Rogers, Jimmie Rodgers and Jackie Mason rolled into one. You really don't have to be stupid to sing country music, but there's certainly something wrong if you can't enjoy Jim Terr"
-Rick Sanjek, assistant vice president, BMI

"Jim's songs, sung in a clear simple style, are not only a perfect passport to learning American English, but also to understanding American culture. His songs explore humanity and everyday life with affection and insight. I highly recommend Jim's body of work as a enjoyable portal to American spirit and speech."
-Samara Alpern (fan) , Puerto Vallarta, Jalisco, Mexico.

"Jim Terr's lyrics, collectively, comprise a body of outsider literature that might even, in an alternate universe,
be a good primer on the English language and humanist thought."
-Robert Dorf (fan)
---
2 of 2: Regarding the CD of XX songs from the book
and credits and history of Jim Terr & related artists
>
Jim Terr (pronounced as in "termite"), American satirist, singer/songwriter, actor/director and video and documentary producer, born in Valley Stream (Long Island), New York, USA. Ironically born on same day and date as fellow actor/satirist Christopher Guest, fellow documentarian Errol Morris (and within 15 miles of their birth places), and actress Barbara Hershey. He was raised in New Mexico and lived there most of his life. .

FILM / VIDEO

Terr's short videos on YouTube have totaled over 1.7 million views to date , with an unusual profile in that they comprise almost every genre from serious country to comedy to political satire to documentary. His full-length, foundation-funded documentaries on the topics of World War Two veteran interviews (including author Tony Hillerman) and Holocaust survivors, as well as driving safety, manufacturing, and reading for pleasure, have gained national recognition.

A documentary in progress exploring local radio news features interviews with network news executives, reporters and such public figures as NPR host Scott Simon, FCC commissioner Jonathan Adelstein, humorist Dave Barry, Newsweek columnist Jonathan Alter, Atlantic Monthly senior editor James Fallows, Hodding Carter, author and radio host Thom Hartmann, radio host Jim Bohannon, radio commentator Charles Osgood, and National Association of Broadcasters president David Rehr. Several of these, plus Philip Proctor of the Firesign Theatre, and radio host Mike Malloy, participate in other documentary projects.

He and his original song about country singer George Jones were featured in the 1988 film, And God Created Woman , starring Rebecca De Mornay and directed by Roger Vadim.

MUSIC

As a record producer, he has been closely associated with "outlaw" country singer/songwriter Steve Young, writer of the song, "Seven Bridges Road", recorded by The Eagles, Joan Baez, Dolly Parton, Rita Coolidge and others, and "Lonesome, On'ry and Mean" recorded by Waylon Jennings; Kathy Chiavola, Junior Brown (as "J. B. Brown", singer / guitarist with The Last Mile Ramblers in the 1970s); and actor Slim Pickens, for whom he produced an album which Rolling Stone Magazine called "The off-the-wall album of the year."

That album, released under Terr's Blue Canyon label, contained a version of the classic song, "Desperados Waiting for a Train," which writer Guy Clark called his favorite version of the song, and which was later featured on a Rhino Records compilation. The album also contained two songs written by Kinky Friedman, and one of the first recorded compositions by Steve Earle. Also among earlierst producer of songs by Butch Hancock and David Halley.

His 1974 re-release of Steve Young's "Seven Bridges Road" album, purchased from Reprise Records, gained sales and critical acclaim sufficient to mark the last time Warner/Reprise ever sold the rights to an album outright.

Many of Terr's early satires in the 1980s were featured on the Doctor Demento national radio program, later on such programs as Paul Harvey News, G. Gordon Liddy, Mountain Stage, and the ABC, CBS, NBC and NPR networks; and later (to present) on the Thom Hartmann and Jim Bohannon radio shows. His 1994 novelty album, Chickenstock, a Jewish parody of Woodstock, won some national acclaim.

He has worked closely with Tommy Hancock, Charlene Hancock, The Supernatural Family Band and Tejana Dames.

His CD releases of original material in 1999 and 2005 drew reviewer comparisons to Phil Ochs, Townes van Zandt, Loudon Wainwright III, Tom T. Hall, Tom Lehrer, Mark Twain, Will Rogers, Jimmie Rodgers and Jackie Mason, Shel Silverstein, Tom T. Hall, Bobby Bare, Ray Stevens and Paul Craft. He is a particular fan of the songwriters Tom T. Hall and Bobby Braddock, having recorded several of their songs on earlier albums.

His alter-ego, crude country performer "BuDDy", has been captured in several videos, and praised by such figures as humorist Dave Barry.

As a music publisher in the 1970s, Terr published songs recorded by The Country Gentlemen, Hank Williams, Jr., and Crystal Gayle.

Website: www.JimTerr.com





(c) Jim Terr

*** You probably don't think of Jim Terr when it comes to songwriting, but after hearing this interview conducted by Diego Mulligan a short time ago, I'm thinking that way. Jim may not have the best voice (though it fits well on his more humorous tunes), but he is one hell of a tunesmith. He leans toward Country— that born between Country & Western and Modern Country— and puts together songs in the manner of, say, Tom T. Hall and Bob McDill— those of a storytelling variety. Terr, for those who don't know, owns Blue Canyon Productions and has worked with Junior Brown,Steve Young and Slim Pickens (bet you didn't know ol' Slim recorded, did you?). Terr played a special part in the life of Steve Young, having re-released Young's Seven Bridges Road album, originally released on Reprise Records (to read a Cliff's Notes version of that involvement, click here). To fill you in a bit on Terr's songwriting skills and as a tribute to Diego Mulligan, who evidently passed away just shortly after this interview happened, Terr has made an mp3 of the interview available online. Songwriters, you might want to listen to this. -Music blogger Frank C. Gutch Jr.

From THIS PAGE which has a few of these interviews





COMMENTS on "DEMOS & DIAMONDS" by Jim Terr and Friends
(first CD of original JT compositions after the "...Stupid..." collection)
"Some of the most thoroughly enjoyable tunes I've ever heard...tiny monuments to songwriting...For whatever elements came together to make the genius of Jim Terr and his music happen, we should be truly gleeful, grateful and gratified. 'Demos and Diamonds' is a square meal of music, a walk around town when all the lights are out and your first kiss, all over again."
-Bill Hutchison,
Santa Fe Reporter
New Mexico Singer/Songwriter Releases Debut CD after 27 Years in the Business!
This is one of the most enjoyable albums that I have listened to in ages. So country, so interesting and so entertaining. What more could one ask for from music?
[Jim Terr has been] described as a modern day Mark Twain, Will Rogers, Jimmie Rodgers and Jackie Mason rolled into one. Can I add to that list names like Shel Silverstein, Tom T. Hall, Bobby Bare, Ray Stevens and the likes--master wordsmiths all, and country boys too.
This guy could quite easily make our stone country section on all counts. Yes, he is that good...this selection barely scrapes the surface of his huge talent...a killer songwriter and storyteller...
["Did It Hurt?"] I just cannot stop laughing... ["The Call"] I find it most delightful as I do the whole album...
...all of the guests give stellar performances...
-Brian Ahern Country Music & More (UK)
A Late Starter!
...an impressive line-up of guest artists from New Mexico, California, Hawaii and Nashville. These include "Bluegrass Vocalist of the Year" Kathy Chiavola, Elvis impersonator Lonnie Yanes, the late western actor Slim Pickens, country music trucking star BuDDy Converse and the Sneakers, Sara Jo Rubenstein, and Lilia.
-Country Music Round-Up (UK)
Terr's CD spans parody, eye-opening sincerity
...Terr produced an entire album by [Slim] Pickens, including the Guy Clark song Desperadoes Waiting for a Train--which Clark says is his favorite cover version of any of his tunes.
My favorite tune [on the CD] is a recent one--Reader's Digest Me... There's not a speck of cynicism in this song, no hipster sneer or yuppie smirk...Terr's simple sincerity in this song and one about his father's death (The Call, 1986) is eye-opening.
-Steve Terrell, Santa Fe New Mexican, "Pasatiempo"
British Country Music Bulletin:
An entertaining, description-defying collection... If one were to invite comparisons, you'd perhaps liken Jim Terr to Tom T. Hall, or, perhaps Paul Craft.
Comments on previous Jim Terr work:
"Wise, witty and whimsical (and sometimes sad)" -Tony Hillerman
"Bodacious" -Dave Barry
"Terr is clearly a menace to musical serenity, and we advise purists in all genres to keep their distance" -Ed Morris, BILLBOARD
"A cross between Tom Lehrer and Ray Stevens...sorely needed comedy in these uncertain times." -Country Music People (UK)

"In this world of computers, Starbucks and cell phones, I need what I once got from Haggard and Jones!"
So declares the always entertaining, vastly underrated sing/songwriter from New Mexico Jim Terr on his latest CD, SongZ 4 Sentimentalists.
Twelve original numbres, ten of them penned by Jim, some of them funny, others poignant and downright tearjerking.
I loved the lot and I'm not Jim's only admirer. He's received glowing praise from master tunesmiths
Bobby Braddock and TomT. Hall.
-David Allan, journalist and broadcaster, Country Music People (UK), February 2013 issue

Two of Jim's better-known national and regional JINGLES are "Sing a Song of Snapple" and "Toss No Mas"
His song about Jimmy Carter has gotten over 141,000 views on Facebook.

Comments on 2005 CD, Jim Terr & friends,
"Please Cut My Song, Mr. Travis"

"Combining comedy with tragedy, optimism with hopelessness and prolific wit with his favorite three chords, Jim Terr's songs are triumphant anthems to this difficult business of living. He shares equal territory with the folksy politicism of Phil Ochs, the sheer songwriting skill of Townes van Zandt, and the shamelessly naive sense of ironic humor ofLoudon Wainwright III."
-Bill Hutchison, Anthologist's Cabinet

"Jim Terr's spirit shows through consistently in his songs... It's the droll, sardonic,
'cut-the-B.S.' outlook known around the world as American." -James Fallows




Father, a physician, and mother, a John Robert Powers model, met in New York City and were married while father served in World War Two. Raised in Charlevoix, Michigan, and Las Vegas, New Mexico, with four siblings. Grandparents immigrated to US from Vitebsk (Belarus), Rostov-on-Don (Russia), and Kiev (Ukraine) in 1890s. Ancestors include Yiddish playwright Jacob Terr (collaborator with Boris Thomashevsky, grandfather of Michael Tilson Thomas) and great-uncles Max Terr, Al Terr and Michael Terr, all involved in acting and music in Hollywood from the 1940s through the 1960s.
Attended Northwestern University, Evanston, Illinois, graduating in 1971 with a degree in English literature and art education.